Your Trainer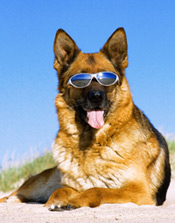 I was born and raised in rural Pennsylvania, Dad got me my first dog at age nine. I named him Baron because my vast life experience at the time was snoopy and the red baron. "Baron" needed shots so a few days later we took him to the vet and much to my chagrin, I found out the Baron was a Baroness. I guess that was when I got hooked on our 4 legged friends. Not to worry, I have picked up a few things since then!
After graduating High school, I served 4 years in the USMC Semper Fi. Over the next 20 plus years I helped raise 3 sons (the only time I ever used shock collars) and continued expanding my scope of training.
I got involved in Dog Competitions, Agility, Obedience, Tracking, Schutzhund and Master Protection. I competed with my German Shepherds Deimos and Leika. I started, owned and operated, Bay Area K-9 Academy in northern California. I trained there for more than a decade. I learned a great deal and had a greater time. I started to miss the closeness of kin, the change of seasons as well as old friends. I put California in my rearview and moved back to the east coast and now reside in Connecticut.
Schools / Affiliations / Memberships
Graduate, Tar heel K 9 Academy
Graduate, American Canine Institute
President, Bay Area K-9 Academy
Member, Association Pet Dog Trainers #2847 P
Member, World Schutzhund League
Member, National Association of Protection Dogs
I am also a certified
First Aid and CPR
(for dogs) I'm available to give seminars on that and other dog gone topics such as Aggression, Puppy rearing and early socialization. I have been featured on T V, Radio and print medias. I have trained Police K-9 units and have worked with Search and Rescue teams. I enjoy going to public schools and teaching k through 6 graders how not to get bitten. Let me wrap up by saying that I love what I do and people have told me it shows.
Just for fun...
Here's an old TV commercial from Scott Secrest's Bay Area K-9 Academy. It's a hoot - thought you'd enjoy it.
Scott DOES have a sense of humor!