Humans Say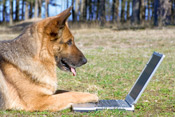 Here are just a few recommendations for Scott Secrest. Scott is a Certified Master Dog Trainer with over twenty years of experience. He is your Connecticut Dog Trainer.
"Scott Secrest of Rover Achievers is The Dog Whisperer"
— The Times-Herald
"Scott, your training techniques and your dog handling skills are excellent. The dogs look great, and their owners look like professional handlers! Stay in touch."
— Girard Bradshaw: CEO and Master Trainer Tarheel Canine Institute
"...We came to Scott after trying group classes; too many dogs, too much confusion! Scott gave us one on one personal attention, he even came to our house!"
— Jan Godin
"...Now, only 8 weeks later, the changes in both our dogs seem almost unbelievable. Scott conducted himself as a true professional and the changes in our dogs are unbelievable. Scott is genuine,, he cares beyond the dollars he is paid. He has our highest recommendation."
— Tony and Rita V.
"Scott, you have a true gift with canines and it has been a great pleasure working with you and watching you work with dogs of every shape and size.

I find your classes fun, challenging and most importantly, I learn something new during each class. I most enjoy seeing you work with the various breeds of all sizes and shapes and how you deal with their varying "issues". You approach each new dog and owner with a vast amount of knowledge to impart as well as a sense of humor and patience.

You have enriched my life as well as Hunter's and have taught me things about dogs I never knew. I can't begin to express the joy and gratitude I feel every time someone tells me how well behaved by dogs are. The lessons you have taught me have continued long after my official "training sessions" were over. As always, it is a pleasure working with you."
— Victoria J. Rungo
For Dog Training in Connecticut - Call (860) 752-5613